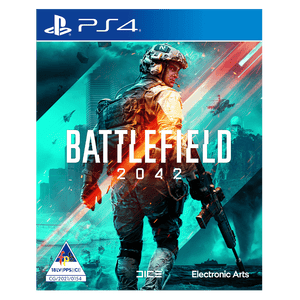 Battlefield 2042 (PS4)
R 599

R 599.00

Save R 500
Tax included.
---
ADDITIONAL RULES
To qualify for prime interest rate, you will need to meet the minimum monthly deposit on the account you hold below or minimum number of initiated transactions or both
Account
Easy
Gold
Premier
Private Clients
Private Wealth
Minimum Monthly Deposit
R1 000
R5 500
R16 500
R 32 500
R 60 000
Minimum Number of Initiated Debit Transactions Monthly
2
5
10
10
10
---
Hover to view payment options
Click to view payment options
Use eBucks at checkout!
Get it on your FNB Credit Card for R1038.23 per month or 1038.23 if you meet additional rules
(excluding Business & Fusion Accounts) T's and C's Apply
---
Description:

Battlefield™ 2042 is a first-person shooter that marks the return to the iconic all-out warfare of the franchise. In a near-future world transformed by disorder, adapt and overcome dynamically-changing battlegrounds with the help of your squad and a cutting-edge arsenal. With support for 128 players*, Battlefield™ 2042 brings unprecedented scale on vast environments across the globe. Players will take on several massive experiences, from updated multiplayer modes like Conquest and Breakthrough to the all-new Hazard Zone.

Gameplay Features:
A World Transformed by Disorder
In 2042, extreme weather events and resource conflicts have shifted the balance of global power. The United States and Russia stand at the brink of war, while a mix of Non-Patriated combat veterans form independent groups known as Task Forces. Fight to define the future in this never-before-seen theater of war.
128 Simultaneous Players
For the first time in Battlefield's history, 128 players can join the all-out war at the same time*. This colossal player count equals entirely new gameplay opportunities and epic Battlefield moments. Now more than ever, feel the intensity of taking part in massive-scale battles where anything can happen.
*Supported on Xbox Series X|S, PlayStation®5, and PC only. Xbox One and PlayStation®4 will be locked at 64 players.
Vast and Dynamic Environments
Get an even greater sense of spectacular, large-scale war on seven massive maps – crafted through a revamped design philosophy. Each battlefield has multiple distinct combat areas housed in a single playspace and this extra space means more variety and more meaningful vehicle gameplay – tanks have more space to roam, fighter jets have more airspace to maneuver. On these maps, youll experience ever-changing battle conditions and gameplay challenges. Adapt on-the-fly to dynamic events and disasters, such as sandstorms in the deserts of Qatar, a rocket launching from French Guiana's Space Centre, and tornadoes threatening South Korea's concrete jungles.
A Cutting-Edge Arsenal
Unleash your combat creativity through a full roster of cutting-edge weapons, vehicles, jets, helis, and all-new equipment inspired by the near-future of 2042. Summon the Ranger, a robotic dog built for battle, use the Syrette Pistol to revive squad members from afar, employ a grappling hook to reach new places, don a wingsuit, deploy a recon drone, and more.
Specialists
Choose your role on the battlefield and form hand-tailored squads through the new Specialist system. Based on Battlefield's four Classes, Specialists have one unique Specialty and Trait – but the rest of the loadout is fully customizable. Choosing and equipping your Specialist allows you to build synergies within your squad and empower yourself to take on any battle situation.
New Seasons, New Content
You and the community will progress in Battlefield™ 2042 through a Season system, which will continuously bring fresh updates to the game. Themed around new narratives, Seasons will bring content like Specialist soldiers, locations, weapons, and vehicles. Those who want to take their Battlefield™ 2042 journey further can purchase the Year 1 Pass and secure 4 New Specialists, 4 Battle Passes, and 3 Epic Skin Bundles ("Blistered Earth", "Tempest", and "Cold Blood").
Age Restriction: 18LV ((PPS)(CI)