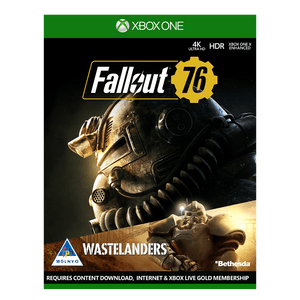 Fallout 76: Wastelanders (XB1) - Online Game
Tax included.
---
ADDITIONAL RULES
To qualify for prime interest rate, you will need to meet the minimum monthly deposit on the account you hold below or minimum number of initiated transactions or both
Account
Easy
Gold
Premier
Private Clients
Private Wealth
Minimum Monthly Deposit
R1 000
R5 500
R16 500
R 32 500
R 60 000
Minimum Number of Initiated Debit Transactions Monthly
2
5
10
10
10
---
Hover to view payment options
Click to view payment options
Use eBucks at checkout!
Get it on your FNB Credit Card for R1038.23 per month or 1038.23 if you meet additional rules
(excluding Business & Fusion Accounts) T's and C's Apply
---
Description:
In Fallout 76: Wastelanders, people are now coming back to West Virginia. Two vying factions are struggling to gain the upper hand as the secrets of West Virginia are revealed. The Settlers have come to find a new home, and the Raiders have come to exploit them. Embark on a new quest for the Overseer, forge alliances with competing factions, and uncover the truth of whats hidden in the mountains. Includes the full game and bonus Raider & Settler in-game items.
Key Features:
New Main Quest
Uncover the secrets of West Virginia by playing through an all-new main quest, starting from the moment you leave Vault 76.
Human NPCs
Befriend or betray new neighbors who have come to rebuild, and experience Appalachia through the eyes of its residents.
New Creatures and Gear
Take down newly mutated creatures finding their way to the region and earn the highest tier of weapons and armor.
Choices and Reputation
Alter the fates of those you meet with dialogue trees. Decisions affect your standing with each faction through an all-new reputation system.
Age Restriction - 18 D L N V CI