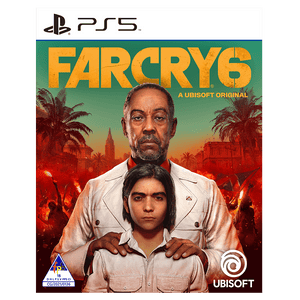 Far Cry 6 (PS5)
Tax included.
---
ADDITIONAL RULES
To qualify for prime interest rate, you will need to meet the minimum monthly deposit on the account you hold below or minimum number of initiated transactions or both
Account
Easy
Gold
Premier
Private Clients
Private Wealth
Minimum Monthly Deposit
R1 000
R5 500
R16 500
R 32 500
R 60 000
Minimum Number of Initiated Debit Transactions Monthly
2
5
10
10
10
---
Hover to view payment options
Click to view payment options
Use eBucks at checkout!
Get it on your FNB Credit Card for R1038.23 per month or 1038.23 if you meet additional rules
(excluding Business & Fusion Accounts) T's and C's Apply
---
Description:

Welcome to Yara, a tropical paradise frozen in time. Far Cry® 6 immerses players into the adrenaline-filled world of a modern-day guerrilla revolution.
As dictator of Yara, Anton Castillo is intent on restoring his nation back to its former glory by any means, with his son, Diego, following in his bloody footsteps.
Become a guerrilla fighter and burn their regime to the ground.
IGNITE THE FIGHT FOR FREEDOM
Join the revolution to push back against the oppressive regime of dictator Anton Castillo and his teenage son Diego, brought to life by Hollywood stars Giancarlo Esposito (The Mandalorian,

 

Breaking Bad) and Anthony Gonzalez (Coco).
Dive into a blockbuster experience as Dani Rojas, a local Yaran defending their country from a tyrant's rule. Choose to play Dani as male or female and immerse yourself in the journey of a citizen turned guerrilla revolutionary.
Meet a colorful cast of unforgettable characters throughout the rich world of Yara, from a jaded ex-KGB spy to a wiener dog who's as cute as he is lethal.
 YARA TORN APART
For the first time in Far Cry, experience a sprawling capital city: Esperanza. Take down Anton in the seat of his power by staying hidden or engaging Anton's army in an all-out firefight in the streets.
Explore the most expansive Far Cry playground to date, and unite a revolution across the jungles, beaches, and towns of an entire island nation.
 BECOME A GUERRILLA
Jump into the action and chaos of guerrilla combat at the heart of a revolution.
When you're outgunned and outnumbered, every guerrilla must become a one-person army. In an island frozen in time, you'll use what you have to make what you need and leverage unconventional weapons in a fight against an unyielding military regime.
No guerrilla should go it alone, so pair up with an all-new animal companion like Chorizo, the adorable wiener dog no soldier can ignore.
Age Restriction: 18 D H L P S V PPS CI