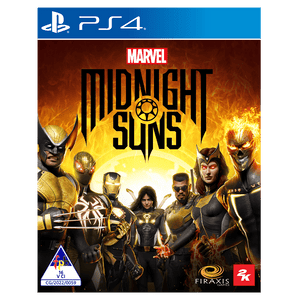 Marvels Midnight Suns (PS4)  
R 1,049

R 1,049.00

Save R 100
Tax included.
---
ADDITIONAL RULES
To qualify for prime interest rate, you will need to meet the minimum monthly deposit on the account you hold below or minimum number of initiated transactions or both
Account
Easy
Gold
Premier
Private Clients
Private Wealth
Minimum Monthly Deposit
R1 000
R5 500
R16 500
R 32 500
R 60 000
Minimum Number of Initiated Debit Transactions Monthly
2
5
10
10
10
---
Hover to view payment options
Click to view payment options
Use eBucks at checkout!
Get it on your FNB Credit Card for R1038.23 per month or 1038.23 if you meet additional rules
(excluding Business & Fusion Accounts) T's and C's Apply
---
Launch Date: TBC
Description:
DARKNESS FALLS. RISE UP!
YOU ARE THE HUNTER, A LEGENDARY DEMON SLAYER WITH A MYSTERIOUS PAST...AND SECRETS YOU HAVE YET TO UNCOVER.
When the demonic Lilith and her fearsome horde unite with the evil armies of Hydra, it's time to unleash Marvel's dark side. As The Hunter, your mission is to lead an unlikely team of seasoned Super Heroes and dangerous supernatural warriors to victory. Can legends such as Doctor Strange, Iron Man, and Blade put aside their differences in the face of a growing apocalyptic threat? If you're going to save the world, youll have to forge alliances and lead the team into battle as the legendary Midnight Suns.
With an array of upgradeable characters and skills allowing you to build your own unique version of The Hunter, you will choose how to send Lilith's army back to the underworld.
MARVEL'S MIDNIGHT SUNS IS A TACTICAL RPG SET IN THE DARKER SIDE OF MARVEL. 
As a new and customisable original Marvel character, lead a powerful team of supernatural Super Heroes facing growing unholy threats. Experience a Tactical Marvel game unlike any other. You must fight vigorously, strategise smartly, and lead an unexpected combination of Marvel Super Heroes to save the world from the rising darkness. 
FIGHT AND STRATEGISE LIKE A SUPER HERO AGAINST THE DARKEST CORNERS OF THE MARVEL UNIVERSE.
Key Features:
EXPERIENCE THE DARKER SIDE OF MARVEL. Rise up against Lilith and her underworld army as you experience a deeply personal story that puts you at its center as The Hunter, the first customisable original hero in the Marvel universe. In the face of fallen allies and the fate of the world at stake, it will be up to you to rise up against the darkness!



LEAD HEROES FROM ACROSS THE MARVEL UNIVERSE. Fight fire with hellfire and lead an unlikely team of seasoned Super Heroes and dangerous supernatural warriors across The Avengers, X-Men, Runaways, and more. Resist Liliths corruption and confront Fallen versions of some of Marvels most iconic and powerful characters, including Venom, Sabretooth and even the Hulk! 
FIGHT, THINK, AND LIVE LIKE A SUPER HERO. From legendary studio Firaxis Games comes a deep tactical RPG where you fight and strategise like a Super Hero! Create the perfect squad and customise their abilities, unleashing skills and attacks to devastate the battlefield. Live the Super Hero life in the Abbey, your very own mystical secret base, and strengthen personal bonds outside the field of battle.
Age Restriction: 16 L V CI
Note: Pre-Orders are charged upon checkout and will be shipped the day before launch.