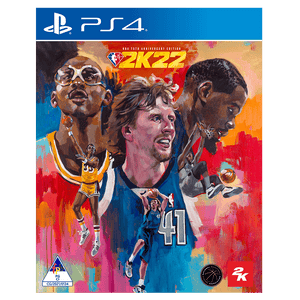 NBA 2K22 75th Anniversary Edition (PS4)
R 499

R 499.00

Save R 1,000
Tax included.
---
ADDITIONAL RULES
To qualify for prime interest rate, you will need to meet the minimum monthly deposit on the account you hold below or minimum number of initiated transactions or both
Account
Easy
Gold
Premier
Private Clients
Private Wealth
Minimum Monthly Deposit
R1 000
R5 500
R16 500
R 32 500
R 60 000
Minimum Number of Initiated Debit Transactions Monthly
2
5
10
10
10
---
Hover to view payment options
Click to view payment options
Use eBucks at checkout!
Get it on your FNB Credit Card for R1038.23 per month or 1038.23 if you meet additional rules
(excluding Business & Fusion Accounts) T's and C's Apply
---
Description:

A WORLD OF BASKETBALL NBA 2K22 puts the entire basketball universe in your hands. PLAY NOW in real NBA and WNBA environments against authentic teams and players. Build your own dream team in MyTEAM with today's stars and yesterday's legends. Live out your own pro journey in MyCAREER and experience your personal rise to the NBA. Flex your management skills as a powerful Executive in MyGM and MyLEAGUE. Anyone, anywhere can hoop in NBA 2K22.
Features:
Get in The Real Game

 

- Play as your favourite NBA and WNBA teams and stars, and experience the authenticity of professional basketball at the highest levels. With best-in-class visual presentation and player AI, up-to-date rosters and historic teams, and much more, the game has never felt more real and complete than it does in NBA 2K. Feel the energy of the crowd, the intensity of the competition, and the endless entertainment of one of the most immersive sports product in gaming today.
Pursue Your Pro Dream

 

- Step into the shoes of an aspiring baller in MyCAREER, and carve your own path to the National Basketball Association in a Hollywood-esque hoopers journey. Meet off-the-court friends and on-the-court foes, as your rise to the top takes different twists and turns - some based on the decisions you make for yourself. Will you make your name in College or develop your game professionally in the NBA G League - or both? Or will you confidently take your game directly to the NBA? Its entirely your story.
Be Part of A Huge Hoops Community

 

- Live out your basketball life in the biggest and most vibrant hoops community in the world. With your MyPLAYER, put in the work, rep up, and dominate the courts. You can train in the Gatorade Training Facility, pick up the latest gear at SWAGS, and compete throughout the year in diverse Events. Be the baller you want to be in NBA 2Ks own basketball hub.
Build Your Own Dream Team

 

- Create the ultimate fantasy roster of todays NBA stars and yesterdays legends in MyTEAM. An ever-rewarding experience of collection and competition, MyTEAM combines the excitement of discovering and obtaining your favourite player cards and the intensity of taking on the best rosters the MyTEAM community has to offer. Play, earn, craft, and compete through challenges, tournaments, and much more.
Take Control Over Everything

 

- Take control as General Manager - or oversee the entire league from the very top as Commissioner - in the most comprehensive management simulation experience: MyNBA and MyWNBA. Make team, personnel, and other big-time decisions that will determine the success of a team on its way to a dynasty, and experiment with new rules, competition formats, and other league-wide decisions that will shape the sport in remarkable ways.
Experience the Latest and Greatest

 

- Theres always something new to come back to in NBA 2K: the latest NBA/WNBA rosters and Player Ratings, new Challenges and player cards in MyTEAM, the freshest gear and basketball Events in the City, and much more. With ever-expanding content and one of the most passionate hoops communities, basketball never stops in NBA 2K.
Everything Is Game

 

- The NBA 2K experience offers more than just the sport of basketball; it is hoops culture and everything around it. Discover up-and-coming music artists in an ever-expanding 2K Beats game soundtrack. Flaunt the latest trends in streetwear and hoops fashion with your MyPLAYER. Design your own sneakers, uniforms, and branding for your custom teams. In NBA 2K, Everything is Game.
Age Restriction: PG CI
Note: Pre-Orders are charged upon checkout and will be shipped the day before launch.