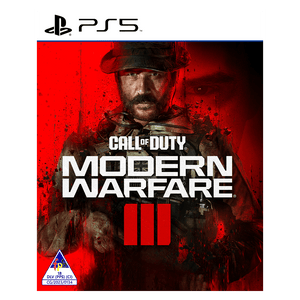 Call of Duty: Modern Warfare III (PS5)
R 1,699

R 1,699.00

Save R 100
Tax included.
---
ADDITIONAL RULES
To qualify for prime interest rate, you will need to meet the minimum monthly deposit on the account you hold below or minimum number of initiated transactions or both
Account
Easy
Gold
Premier
Private Clients
Private Wealth
Minimum Monthly Deposit
R1 000
R5 500
R16 500
R 32 500
R 60 000
Minimum Number of Initiated Debit Transactions Monthly
2
5
10
10
10
---
Hover to view payment options
Click to view payment options
Use eBucks at checkout!
Get it on your FNB Credit Card for R1038.23 per month or 1038.23 if you meet additional rules
(excluding Business & Fusion Accounts) T's and C's Apply
To use your Mobicred facility click on Payfast at checkout
---
Description:

ADAPT OR DIE IN A FIGHT AGAINST THE ULTIMATE THREAT

In the direct sequel to the record-breaking Call of Duty®: Modern Warfare® II, Captain Price and Task Force 141 face off against the ultimate threat. The ultranationalist war criminal Vladimir Makarov is extending his grasp across the world causing Task Force 141 to fight like never before.

Combat means making choices — different loadouts, different paths through the mission. In addition to the signature, cinematic Call of Duty® campaign missions, Modern Warfare® III introduces open combat missions that provide more player choice. There is no one-size-fits-all solution – it is your choice whether to take the stealthy approach or go loud taking on any and all foes.

IT'S TIME TO SETTLE OLD SCORES AND START NEW ONES

Modern Warfare® III celebrates the 20th anniversary of Call of Duty® with one of the greatest collections of Multiplayer maps ever assembled - both fan favourites and all new ones. All 16 launch maps from the original Modern Warfare® 2 (2009) have been modernised with new modes and gameplay features and will be available at launch to get everyone started, while over 12 all-new core 6v6 maps will fuel post-launch live seasons.

Modern Warfare III will also launch with new Ground War maps boasting innovative play spaces and the epic return and evolution of the popular War Mode that first debuted in 2017's Call of Duty®: WWII.

ALL NEW OPEN WORLD ZOMBIES

For the first time, team up with other squads to survive and fight massive hordes of the undead in the largest Call of Duty® Zombies map ever. Modern Warfare® Zombies (MWZ) tells a new Treyarch Zombies story with missions, core Zombies features and secrets to discover. Ready up for an open world PvE survival experience against some of the biggest enemies in Call of Duty history. 
Age Restriction: 18 DLV (PPS) (CI)