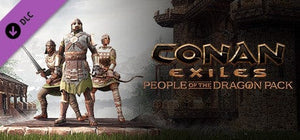 Conan Exiles - People of the Dragon Pack
Tax included.
---
ADDITIONAL RULES
To qualify for prime interest rate, you will need to meet the minimum monthly deposit on the account you hold below or minimum number of initiated transactions or both
Account
Easy
Gold
Premier
Private Clients
Private Wealth
Minimum Monthly Deposit
R1 000
R5 500
R16 500
R 32 500
R 60 000
Minimum Number of Initiated Debit Transactions Monthly
2
5
10
10
10
---
Hover to view payment options
Click to view payment options
Use eBucks at checkout!
Get it on your FNB Credit Card for R1038.23 per month or 1038.23 if you meet additional rules
(excluding Business & Fusion Accounts) T's and C's Apply
---
This is a digital code and will be sent via email.

Platform: PC

Description:

Build mighty castles and towering fortresses with the People of the Dragon Pack. Enjoy its exclusive medieval style with several brand-new building pieces, such as tall spires, a new type of fortified window and a sloped roof with window.
The building pieces, armors, weapons, placeables and horse saddles of this pack are from the powerful kingdom of Nemedia. In the deep forests and tall mountains just to the east of Aquilonia, unyielding Nemedian castles dominate the landscape, and now you can build your very own in the Exiled Lands!
Decorate your castle with striking vaulted ceilings, a wide selection of carpets, beautiful reliefs, a cozy fireplace, beautiful books, figurines, a stunning boar statue or the mighty banner of the dragon.
People of the Dragon Pack contains:
48 new Nemedian building pieces, including new options. An expanded full set of building pieces with the same stats as existing tier three.
15 new armor pieces in three sets, such as the Nemedian infantry armor. Light, medium and heavy sets with an epic end-game version of each.
12 new Nemedian weapons including a shield. Same power as iron weapons with an epic end-game version of each weapon.
32 new placeables, such as books, a flag, bed and fireplace. Craft them at the new Nemedian artisan bench.
3 new Nemedian horse saddles. Equip your horse with a light, medium or heavy saddle.
All the new content in People of the Dragon Pack is exclusive to this DLC and adds a host of new visual options but does not give any in-game advantage in power. All the new items have comparable stats to existing items.