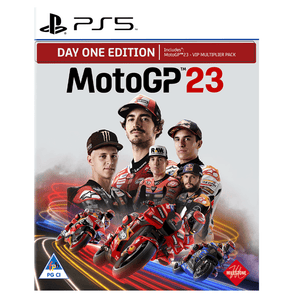 MotoGP 23 Day One Edition (PS5)
Tax included.
---
ADDITIONAL RULES
To qualify for prime interest rate, you will need to meet the minimum monthly deposit on the account you hold below or minimum number of initiated transactions or both
Account
Easy
Gold
Premier
Private Clients
Private Wealth
Minimum Monthly Deposit
R1 000
R5 500
R16 500
R 32 500
R 60 000
Minimum Number of Initiated Debit Transactions Monthly
2
5
10
10
10
---
Hover to view payment options
Click to view payment options
Use eBucks at checkout!
Get it on your FNB Credit Card for R1038.23 per month or 1038.23 if you meet additional rules
(excluding Business & Fusion Accounts) T's and C's Apply
---
Description:

ALL THE THRILLS OF THE REAL CHAMPIONSHIP IN THE MOST ADVANCED, COMPLETE AND CHALLENGING MotoGP™ EXPERIENCE TO DATE!   
THERE IS ONLY 1 
The feeling of racing shoulder to shoulder with the most acclaimed MotoGP™ champions is back on the track once again, with a new chapter packed with exciting new features! 
And just like there is only one rider who will claim the championship in the end, so there is only one official MotoGP™ videogame!  
A NEW CAREER TO DISCOVER 
Your ultimate goal might still be the same: climbing the rankings from Moto3™ to Moto2™ to the Olympus of the MotoGP™, but the way you can choose the path of your Career has been completely redesigned to give you the most realistic and personal experience ever. The relationship with the other riders will play a major role: Rivalries can really influence the race and ultimately your career, so pay attention to the new in-game virtual Social Media platform… and watch your back!  
And just like real life, crucial moments can suddenly boost your career: these are the new Turning Points, shortcuts to move faster through the different classes with dedicated challenges.   
THRILLS FOR EVERYONE 
Whether you are a skilled, seasoned rider or it's your very first time on the 2 wheels, MotoGP™23 knows how to make your experience always enjoyable and motivating. The new Neural Aid System is designed to analyze your performance and give you real time support with handling, brakes and acceleration. Dedicated Tutorials will let you explore in depth specific aspects of the game. And then, keep building your confidence or perfect your style in the prestigious MotoGP™ Academy, to learn all the tricks to be a champion.   
EVERYTHING CAN CHANGE 
Easy never made great victories. So if you're up for a challenge, you'll love the new Dynamic Weather feature! It will bring the highest level of unpredictability in the game, with a dry race that can quickly turn into a wet mayhem. Make the most of the new Flag-to-Flag rule to swap your bikes and get a strategic advantage on your rivals! When everything can change, timing is everything!  
MAKE IT YOUR OWN 
Your personal style doesn't only show in the way you ride, it also shines through the look you choose! So, unleash your creativity and show off your style with the endless possibilities offered by our powerful graphic editors!  
You can now share your creations from D1 thanks to the cross-play feature.  
RACE WITHOUT LIMITS 
To prove you are the best, you need to challenge everyone. Well, now you can. MotoGP™23 features full cross-play* to compete with other players regardless of their platform and console generation. And when the competition is in the same room with you, the Split-Screen mode will help you find out who the real king of the couch is. 
Finally, the new Ranked Races will let you take on other players with your same skill level to enjoy the most intense and challenging duels!  
*Cross-play available between PlayStation and Xbox consoles.  
Age Restriction: PG CI