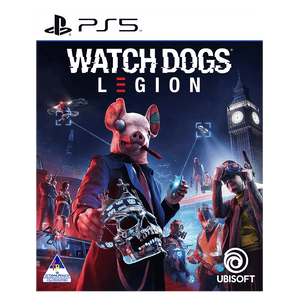 Watch Dogs Legion (PS5)
R 599

R 599.00

Save R 300
Tax included.
---
ADDITIONAL RULES
To qualify for prime interest rate, you will need to meet the minimum monthly deposit on the account you hold below or minimum number of initiated transactions or both
Account
Easy
Gold
Premier
Private Clients
Private Wealth
Minimum Monthly Deposit
R1 000
R5 500
R16 500
R 32 500
R 60 000
Minimum Number of Initiated Debit Transactions Monthly
2
5
10
10
10
---
Hover to view payment options
Click to view payment options
Use eBucks at checkout!
Get it on your FNB Credit Card for R1038.23 per month or 1038.23 if you meet additional rules
(excluding Business & Fusion Accounts) T's and C's Apply
---
Description:

PlayStation®5 will allow players to experience a living, bustling, near-future London in Watch Dogs: Legion. Gorgeous 4k visuals with reflections using Ray Tracing running on PlayStation®5 will immerse players in a city full of digital screens, holograms, and neon lights. Watch Dogs: Legion will take advantage of Tempest 3d Audiotech to bring London to life with passing cars, talking pedestrians, and drones flying above – enhancing the gameplay experience all around the city. Thanks to the Ultra-High Speed SSD, Watch Dogs: Legion will dramatically reduce waiting periods, making driving at high speeds and fast-travelling across London a truly smooth traversal experience. Adaptive triggers enable players to enjoy hand-tuned responses, elevating the visceral feeling of high-tension moments.
Explore a massive urban open-world where you can visit London's many famous landmarks.
Experience a never-seen-before gameplay innovation. Anyone you see can join your team complete with a unique backstory, personality, and skill set.
Weaponise London's tech infrastructure. Hijack armed combat drones, deploy stealthy spider-bots, covertly take down enemies using an Augmented Reality Cloak, and much more.
Bring your team online and join forces with up to three friends and explore the world together or take on entirely new co-op missions and challenging endgame content.
Age Restriction: 18 CT D H L P S V CI