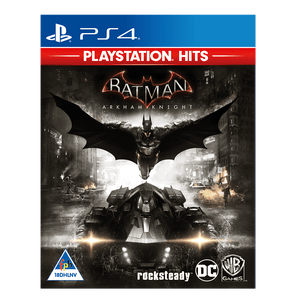 Batman Arkham Knight (PS4 Hits)
Tax included.
---
ADDITIONAL RULES
To qualify for prime interest rate, you will need to meet the minimum monthly deposit on the account you hold below or minimum number of initiated transactions or both
Account
Easy
Gold
Premier
Private Clients
Private Wealth
Minimum Monthly Deposit
R1 000
R5 500
R16 500
R 32 500
R 60 000
Minimum Number of Initiated Debit Transactions Monthly
2
5
10
10
10
---
Hover to view payment options
Click to view payment options
Use eBucks at checkout!
Get it on your FNB Credit Card for R1038.23 per month or 1038.23 if you meet additional rules
(excluding Business & Fusion Accounts) T's and C's Apply
---
Description:
Batman: Arkham Knight introduces for the first time, a uniquely designed and drivable version of the Batmobile. The highly anticipated addition of this legendary vehicle, combined with the epic gameplay of the Arkham series, offers players the ultimate and complete Batman experience as they fight through the streets and soar across the skyline of the entire Gotham City. In this explosive finale that brings the award-winning Arkham trilogy from Rocksteady Studios to its epic conclusion, Batman faces the ultimate threat against the city that he is vowed to protect, as Scarecrow returns to unite the super criminals and destroy the Batman forever.
Age Restriction: 18DHLNV