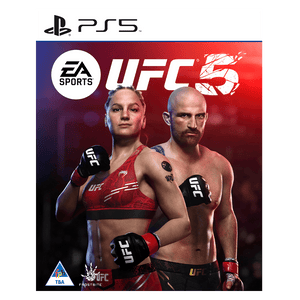 EA Sports UFC 5 (PS5)
R 1,399

R 1,399.00

Save R 100
Tax included.
---
ADDITIONAL RULES
To qualify for prime interest rate, you will need to meet the minimum monthly deposit on the account you hold below or minimum number of initiated transactions or both
Account
Easy
Gold
Premier
Private Clients
Private Wealth
Minimum Monthly Deposit
R1 000
R5 500
R16 500
R 32 500
R 60 000
Minimum Number of Initiated Debit Transactions Monthly
2
5
10
10
10
---
Hover to view payment options
Click to view payment options
Use eBucks at checkout!
Get it on your FNB Credit Card for R1038.23 per month or 1038.23 if you meet additional rules
(excluding Business & Fusion Accounts) T's and C's Apply
---
Description:

This is as real as it gets. 
FROSTBITE ENGINE
For the first time in franchise history, the Frostbite™ engine powers EA SPORTS UFC, bringing unrivaled graphics upgrades for console games. From dynamic lighting and overhauled character fidelity to realistic strand hair and cloth animations — Frostbite helps bring the action in the Octagon to life.
CINEMATIC K.O. REPLAY
Harnessing the power of Frostbite, players can rewatch their finishing blows in stunning visual fidelity. Captured in super slow motion with cinematic camera angles and lighting, the impact of fight-ending shots looks more authentic — and beautiful — than ever, as blood flies and flesh bruises, turning your devastating knockout into a work of art.
VISUAL EFFECTS
It's all about impact. Improved fidelity means when fighters absorb strikes, the results show on their face and body in an authentic, wince-inducing fashion. Plus, all new fluid physics and particle systems make blood and sweat drip and spray as it does during the heat of the action in the Octagon.
AUTHENTIC FINISHES
From newly added draws in offline and online play to realistic updates to how the ref steps in to save a downed fighter from too much ground-and-pound; the number of ways a fight can end has grown in number and authenticity in UFC 5.
FEATURES AND MODES 
All New Ways to Play 
FIGHT WEEK
UFC 5 is truly an extension of the UFC fan experience, and there's no better example than the all-new Fight Week challenges, features, and content that connect them with blockbuster UFC cards in a way that's never been done before.
PROGRESSION & REWARDS
Play the game to earn your way through a set of predetermined rewards, including in-game currency, player profile customizations, created fighter Vanity Items, and Alter Egos. In addition, completing Profile Challenges rewards players with XP that levels up their Punch Card's earning capability.
ONLINE CAREER MODE
Players asked for it; we answered. Online Career includes skill-based matchmaking, division progression, and title chases across four divisions. Players can compete with a different Created Fighter in each division, allowing players to showcase multiple character customizations and Vanity Items. 
Age Restriction: TBC