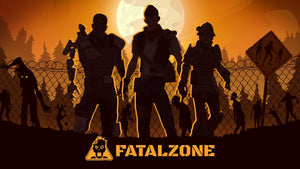 FatalZone
Tax included.
---
ADDITIONAL RULES
To qualify for prime interest rate, you will need to meet the minimum monthly deposit on the account you hold below or minimum number of initiated transactions or both
Account
Easy
Gold
Premier
Private Clients
Private Wealth
Minimum Monthly Deposit
R1 000
R5 500
R16 500
R 32 500
R 60 000
Minimum Number of Initiated Debit Transactions Monthly
2
5
10
10
10
---
Hover to view payment options
Click to view payment options
Use eBucks at checkout!
Get it on your FNB Credit Card for R1038.23 per month or 1038.23 if you meet additional rules
(excluding Business & Fusion Accounts) T's and C's Apply
---
This is a digital code and will be sent via email.

Platform: PC

Description:

Survival takes a deadly toll…
Exterminate hordes of zombies in a world devastated by a deadly virus and collect resources for one of the last survivor camps. FatalZone is an auto shooter with roguelike and RPG elements where you fortify your camp and send mercenaries on deadly missions... all of that to save humanity!
Evacuation from the infected area Your mission is complete if you hold out for 30 minutes during a raid. Can you last that long? If you're about to be overwhelmed by the zombie onslaught, just get to the chopper! Evac is always an option — wrap your mission up early and live to fight another day.
Level up mercs
Risk it all on deadly runs to create the most effective build and unlock a slew of new skills and new characters. Level up your merc on the battlefield and grant them new skill combos in the camp. The more runs, the more seasoned your veterans are, but everyone is mortal.
Develop your camp
Develop your survivor camp to unlock buffs. Upgrade merc skills in the Training Hall, recruit new mercs at the Mercenary Base, and upgrade your weapons and armor in the workshop. Upgraded buildings increase your chances of survival.
Experiment with the viral load
During a run, your mercs are exposed to the virus that takes its toll on the body. A bigger viral load undermines a merc's physical state and increases their chances of developing a mutation that could be beneficial or detrimental. Experiment to create the most viable fighter!
Features:
Upgrade your camp to unlock buffs, equipment, and mercs
Hire and train new mercs to replace KIAs
Use the evac copter to wrap up missions early
Create the most effective merc build
Gain mutations that give unique skills or debuffs
Use the inventory to place weapons and armor. Weapons grant starting fighting skills, while armor provides stats
Choose from 5 levels of difficulty
Fight on procedurally generated maps. Every run is a new challenge!
Unlock numerous achievements to prove your mettle
Content of the version:
3 locations
7 character classes
51 unique perks to upgrade your characters with
7 types of weapons
9 types of armor
37 attack and defense skills
13 evolution paths for weapons and attack skills
34 enemy types (14 of them have unique art)
6 different difficulty levels for the 3 locations
6 base camp buildings, each with its own features and 10 upgrade levels
51 character stats
Lots of mutations that change character stats randomly
5 powerups (on top of all the resources and XP)
50 achievements