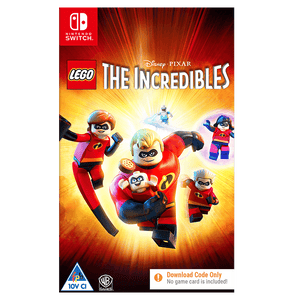 LEGO Incredibles (NS) - Code In Box
Tax included.
---
ADDITIONAL RULES
To qualify for prime interest rate, you will need to meet the minimum monthly deposit on the account you hold below or minimum number of initiated transactions or both
Account
Easy
Gold
Premier
Private Clients
Private Wealth
Minimum Monthly Deposit
R1 000
R5 500
R16 500
R 32 500
R 60 000
Minimum Number of Initiated Debit Transactions Monthly
2
5
10
10
10
---
Hover to view payment options
Click to view payment options
Use eBucks at checkout!
Get it on your FNB Credit Card for R1038.23 per month or 1038.23 if you meet additional rules
(excluding Business & Fusion Accounts) T's and C's Apply
---
This game has no disc, it has a code in the cover which you will use to get access to the game online
Description:
LEGO® The Incredibles takes players on an extraordinary fun-filled adventure where theyll control their favourite Incredibles characters and team up as a family to conquer family life and crime. Reimagined in LEGO® form and featuring witty LEGO® humour, the game recreates unforgettable scenes and breathtaking action sequences from both Incredibles movies.  
Age Restriction: 10V CI