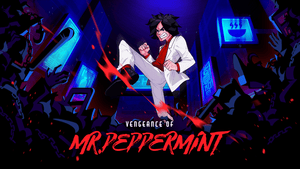 Vengeance of Mr Peppermint
Tax included.
---
ADDITIONAL RULES
To qualify for prime interest rate, you will need to meet the minimum monthly deposit on the account you hold below or minimum number of initiated transactions or both
Account
Easy
Gold
Premier
Private Clients
Private Wealth
Minimum Monthly Deposit
R1 000
R5 500
R16 500
R 32 500
R 60 000
Minimum Number of Initiated Debit Transactions Monthly
2
5
10
10
10
---
Hover to view payment options
Click to view payment options
Use eBucks at checkout!
Get it on your FNB Credit Card for R1038.23 per month or 1038.23 if you meet additional rules
(excluding Business & Fusion Accounts) T's and C's Apply
---
This is a digital code and will be sent via email.

Platform: Mac/PC

Description:

Vengeance of Mr. Peppermint is a hardcore, side-scrolling beat-'em-up inspired by classic Korean crime dramas. As Mr. Peppermint, a hard-boiled detective driven to the extreme, find out who gives orders at the top of the crime ladder, and enact brutal, bloody vengeance. Countless criminals infest a seedy underbelly, with a sinister cult poisoning the guts of this corpse of a city. Destroy anyone in Peppermint's way with anything he can get his hands on. Wade through mountains of corpses, wipe blood off the edges of Peppermint's suit, and beware that this detective might be his own worst enemy.
THE BAD DETECTIVE
Long ago, a serial killer kidnapped two siblings, a brother and a sister. The boy miraculously managed to escape, but the girl was not so lucky… Twenty years later, the boy, now a man, has become a detective just like his father, believing that law and order are the foundation of society. Yet, his grief and pain have driven him to the brink of madness, peering into the abyss of rage. Now, with red-hot clarity, he must punish the murderer responsible for his sister's death, no matter how many people stand in his path.
SEE THE DEVIL
Peppermint's obsession with revenge transforms him into a killing machine. Use incredibly precise controls to choreograph combos and carry out brutal fatalities. Improvise weapons in the environment and pummel enemies into a fine red mist like hooks, meat processors, or ovens…anything can bring a goon's criminal career to a brutally spectacular end.
SYMPATHY FOR PEPPERMINT
A rampage of revenge can take its toll on Mr. Peppermint. The crueler his actions, the more twisted the story unfolds and his psyche crumbles. Paradoxes and inconsistencies appear. Unanswered questions manifest. As this once dedicated detective spirals out of control, question who is really the serial killer…