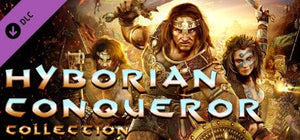 Age of Conan: Unchained - Hyborian Conqueror Collection
Tax included.
---
ADDITIONAL RULES
To qualify for prime interest rate, you will need to meet the minimum monthly deposit on the account you hold below or minimum number of initiated transactions or both
Account
Easy
Gold
Premier
Private Clients
Private Wealth
Minimum Monthly Deposit
R1 000
R5 500
R16 500
R 32 500
R 60 000
Minimum Number of Initiated Debit Transactions Monthly
2
5
10
10
10
---
Hover to view payment options
Click to view payment options
Use eBucks at checkout!
Get it on your FNB Credit Card for R1038.23 per month or 1038.23 if you meet additional rules
(excluding Business & Fusion Accounts) T's and C's Apply
---
This is a digital code and will be sent via email.

Platform: PC

Description:

Discover the very ends of the Hyborian frontier with the Hyborian Conqueror Collection! This collection features all of the additional content found in Age of Conan: Unchained in a single package!
The collection includes:
Rise of the Godslayer
Savage Coast of Turan
Secrets of Dragon's Spine
Shadow of Vanaheim
Exclusive "Spiked Cloak of Vapours" vanity item!
Rise of the Godslayer
Discover the secrets of Khitai! Based on the events after the story "The Tower of the Elephant", Rise of the Godslayer explores the vast lands of the Khitai Empire. Home to powerful sorcerers and ancient mysteries, exploring these dark roads is not for the feint of heart. Expansion Set includes:
Playable Khitan race
4 Additional adventure zones in Khitai
12 Different factions with high-end rewards
3 Solo instances and 14 Group encounters
Jade Citadel - Tier 4 Raid dungeons
Savage Coast of Turan
The coastal city of Ardashir is amidst a power struggle of treachery and turmoil. Inspired by the events of the story "Iron Shadows of the Moon", when in a place where thieves and pirates reign supreme, who can be trusted beside the blade at your hip? Adventure Pack includes:
Coast of Ardashir playfield - Level 50 to 55
2 High-level Solo Instances
Fort Ardashir - Level 80 group dungeon
Temple of Erlik - Tier 3.5 Raid dungeon
Secrets of Dragon's Spine
Amid an unending ocean of sand and dunes to the southwest of Pteion lies a small oasis in mountain shadows. These lands are known to some as the "Dragon's Spine", and teems with life both natural and unholy. What ancient secrets lay buried beneath the sand? Adventure Pack includes:
Dragon's Spine playfield - Level 80
The Sepulcher of the Wyrm - Level 80 Group Dungeon
The Coils of Ubah Kan - Level 80 Group Dungeon
The Slithering Chaos - Level 80 Group Dungeon (Coming Soon!)
Unchained Raids - Tier 5 Raid encounters
The Palace of Cetriss - Tier 6 Raid dungeon
Shadow of Vanaheim
A formidable group of Vanir, under the command of mighty Thegn Heimdall, has been sighted gathering near the Cimmerian border. Travel to the untamed Blue Mountains to the north and descend into the snowy tundras of Vanaheim itself! Scenario Pack includes:
4 small group instances that scale to your level (Level 20+)
Dynamic Quests that change every day
New Faction and rewards
New vanity gear and mount
*Membership offers and loyalty rewards cannot be claimed on Saga Servers.