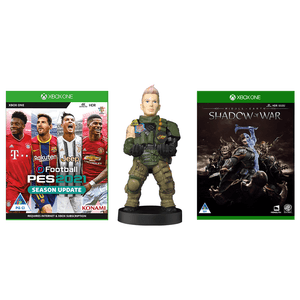 Cable Guy: Battery + eFootball PES 2021 Season Update + Middle Earth: Shadow of War (XB1)
Tax included.
---
ADDITIONAL RULES
To qualify for prime interest rate, you will need to meet the minimum monthly deposit on the account you hold below or minimum number of initiated transactions or both
Account
Easy
Gold
Premier
Private Clients
Private Wealth
Minimum Monthly Deposit
R1 000
R5 500
R16 500
R 32 500
R 60 000
Minimum Number of Initiated Debit Transactions Monthly
2
5
10
10
10
---
Hover to view payment options
Click to view payment options
Use eBucks at checkout!
Get it on your FNB Credit Card for R1038.23 per month or 1038.23 if you meet additional rules
(excluding Business & Fusion Accounts) T's and C's Apply
---
Description:
Cable Guy: Battery

100% officially licensed and reporting for duty! Inspired by Erin "Battery" Baker, a specialist in Call of Duty: Black Ops 4, this functional figurine includes a 2m Micro USB cable to charge your device and is the perfect squad mate to go into battle with from your bedroom, lounge or office. All Cable Guys are compatible with PlayStation controllers, Xbox controllers and most smartphones.
Charging cable not compatible with Apple products
eFootball PES 2021 Season Update 
eFootball PES 2021 SEASON UPDATE delivers all the critically acclaimed features and gameplay from eFootball PES 2020 that was awarded "Best Sports Game" at E3 2019, plus more. Boasting the latest player and club data for the new season, the game also includes the exclusive UEFA EURO 2020™ mode and content in advance of the rescheduled real-life tournament.
As the PES franchise celebrates its 25th Anniversary since its debut in 1995, KONAMI invites football fans all over the world to join us once again as we head out onto the pitch for a new action-packed season of football and prepare for the future.
GAMEPLAY
Outsmart the defence with Finesse Dribble, discover the expanded trapping mechanics that will vary depending on your players abilities and feel the context-sensitive kick accuracy. Each player's individual playstyle will bring another layer of depth to your squad on the pitch.
KEY PRODUCT FEATURES 
SEASON UPDATE

 

–

 

PES 2021

 

is an updated version of last year's title, eFootball PES 2020, providing the latest player data and club rosters. Due to the delayed season endings for many leagues, the latest data for certain licensed leagues and teams will be available via a day one patch (internet connection required).
EXCLUSIVE UEFA EURO 2020™ CONTENT

 

– Ahead of the real-life tournament in 2021, the official UEFA EURO 2020™ content will be included at launch in

 

PES 2021. Featuring the offline UEFA EURO 2020™ Tournament Mode, all 55 UEFA national teams, Wembley Stadium and more, this is the best way to simulate the tournament before and after its summer debut.
ICONIC MOMENT SERIES

 

– Relive and recreate memorable moments from the careers of current and former football superstars with this new myClub series. 
FEATURED GAME MODES 
MASTER LEAGUE

 

– Master League is an iconic single player mode that puts you in the managers seat of your very own club. As you work to build and develop your very own dream team, youll be charged with driving progression through meaningful choices both on and off the pitch. Experience the ebb and flow of each season, from the kickoff of your very first pre-season match right through to the heartpounding thrills of the grand finale. If youre looking for a rich and immersive football management experience, then this is the mode for you.
3 new managers have also been added as playable avatars this year, giving additional options for fans.
MATCHDAY

 

– Stand alongside PES newcomers and seasoned professionals as you work together to take on football's biggest matches in this competitive online mode. Pick your favorite club and take on other users of the same skill level to contribute to your side's victory. Rack up enough wins and be in with a chance of representing your side in an epic final showdown. 
GRAPHICS AND PRESENTATION 
VISUAL
3D full-body scans of various players have been implemented to add a new layer of photorealism to the player models.
Stadiums are so much more than a place to simply watch and play football, and weve done our utmost to capture every little detail that gives them their unique character.
Age Restriction: PG CI
Middle Earth: Shadow of War (XB1)
Return to the fantastic world of Middle-Earth and contend with the deadly threat of Sauron and his Nazgul as you fight to hold back the spread of calamity and wickedness throughout the land. 
Building on the signature 'Nemesis' system from Middle-Earth: Shadow of Mordor, Middle-Earth: Shadow of War will place you and your actions at the centre of the conflict. Not only will enemies react to your presence and remember their previous encounters with you, but also dynamic 'Nemesis Fortresses' will respond to your tactics, encouraging new approaches to each location. 
'Followers', in turn, will shape the story itself, adding new branches to the narrative with their own individual stories of loss, loyalty and betrayal that build on the world's expanding story. 
Set between the events of The Hobbit and The Lord of the Rings, Middle-Earth: Shadows of War beckons you once more into JRR Tolkien's iconic world of wizards, orcs and elves.
Features:
A Monumental Story: Immerse yourself in the epic scale of Middle-earth as you forge a new ring and siege epic fortresses to face the Dark Lord and the Ring wraiths.
Nemesis System Evolved: Experience a richer and more personal world full of new enemy types, stronger personalities and deeper stories - anyone you face can now evolve from a lowly Soldier to a mighty Overlord, Personal Nemesis or Ally.
Turn Mordor Against Sauron: Go behind enemy lines and use strategy, cunning or brute force to conquer Saurons fortresses and turn them against him.
In Middle-Earth: Shadow Of War, Nothing Will Be Forgotten.
Age Restriction: 16V