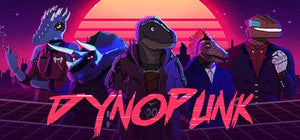 Dynopunk
Tax included.
---
ADDITIONAL RULES
To qualify for prime interest rate, you will need to meet the minimum monthly deposit on the account you hold below or minimum number of initiated transactions or both
Account
Easy
Gold
Premier
Private Clients
Private Wealth
Minimum Monthly Deposit
R1 000
R5 500
R16 500
R 32 500
R 60 000
Minimum Number of Initiated Debit Transactions Monthly
2
5
10
10
10
---
Hover to view payment options
Click to view payment options
Use eBucks at checkout!
Get it on your FNB Credit Card for R1038.23 per month or 1038.23 if you meet additional rules
(excluding Business & Fusion Accounts) T's and C's Apply
---
This is a digital code and will be sent via email.

Platform: PC

Description:

Dynopunk is an ironic adventure set in a cyberpunk world where dinosaurkind has replaced humanity. Run a repair shop, fix gadgets, find a personalized approach to every customer by offering them beverages and having deep heart-to-heart conversations. All to sort out your private life and chase your ultimate dream!
Imagine that a meteor had never struck the Earth, so the dinosaurs did not go extinct but continued to evolve. Now, millions of years later, they inhabit high-tech megalopolises. One such dino is Chris, a repair shop owner who dreams of building a Time Machine to travel to the past and find true love, because he is the last remaining T-Rex on the planet!
Meet Cyberpunk Dinosaurs
Enjoy pixel art that pays homage to 1990s retro games. Meet a cast of memorable characters from an alternative future where predatory, carnivorous dinosaurs have come to rule the world. Relax to the sound of a Lo-fi soundtrack as you progress through the story and make plot-altering decisions.
Fix Gadgets
Elicit relevant information from your clients to find the source of the problem and fix their gadgets. Perform your work neatly and carefully — your income depends on it.
Chat up the Customers
Strike up heart-to-heart conversations with customers and offer them a beverage to their liking. A glass of cool fizz or a cup of hot coffee increases your chances of getting tips.
Follow the Dream
You play as the last surviving T-Rex on Earth, trying to build a Time Machine and travel to the past to find true love. Will this dream ever come true?
Features:
A branching story, driven by conversations with the customers and the quality of your repairs.
Great opportunity to exchange pleasantries with a quirky assistant — a talking printer that enjoys teasing Chris about his little arms and likes to give questionable business advice.
Drink-serving simulator, which affects not only the customers' mood but also the size of your tip.
Original, 1980s-inspired Lo-fi soundtrack! Pour yourself a cup of hot tea, then sit back, relax, and get immersed in the story.
A variety of interesting characters that will pay a visit to your repair shop. Each of them comes with unique traits, dreams, and a personal story that can be influenced by player choice.
Dialogues full of irony, jokes, references, and Easter eggs to cheer you up!
Pixelated graphics inspired by 1990s retro gaming.