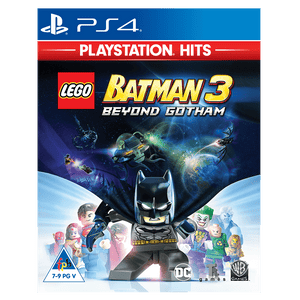 LEGO Batman 3: Beyond Gotham (PS4 Hits)
Tax included.
---
ADDITIONAL RULES
To qualify for prime interest rate, you will need to meet the minimum monthly deposit on the account you hold below or minimum number of initiated transactions or both
Account
Easy
Gold
Premier
Private Clients
Private Wealth
Minimum Monthly Deposit
R1 000
R5 500
R16 500
R 32 500
R 60 000
Minimum Number of Initiated Debit Transactions Monthly
2
5
10
10
10
---
Hover to view payment options
Click to view payment options
Use eBucks at checkout!
Get it on your FNB Credit Card for R1038.23 per month or 1038.23 if you meet additional rules
(excluding Business & Fusion Accounts) T's and C's Apply
---
Description:
The best-selling LEGO Batman videogame franchise returns in an out-of-this-world, action-packed adventure! In LEGO Batman 3: Beyond Gotham, the Caped Crusader joins forces with the super heroes of the DC Comics universe and blasts off to outer space to stop the evil Brainiac from destroying Earth. Using the power of the Lantern Rings, Brainiac shrinks worlds to add to his twisted collection of miniature cities from across the universe. Now the greatest super heroes and the most cunning villains must unite and journey to different Lantern Worlds to collect the Lantern Rings and stop Brainiac before its too late.
Features:
Exciting space combat - For the first time ever, battle with Batman and his allies in outer space and the various Lantern worlds including Zamaron and Odym.
Robust roster of DC Comics heroes and villains - Play and unlock more than 150 unique characters with amazing powers and abilities, including members of the Justice League, and BIG LEGO Figures such as Cyborg, Solomon Grundy and more.
Unique storyline with new plots and twists -Surprising disguises, Brainiacs mind control ability, and the power of the Lantern rings bring a whole new twist to characters you thought you knew.
Hack computer terminals - Enter a virtual world to escape mazes, battle in arenas, and race to find the code.
Bat-tastic Gadget Wheel - With a simple press of a button, choose and upgrade select characters suits and abilities.
Variety of iconic locales - Visit the Hall of Justice, the Batcave, and the Justice League Watchtower to access shops, trophy rooms, and the hero and vehicle customizers.
Age Restriction: 7-9 PG V