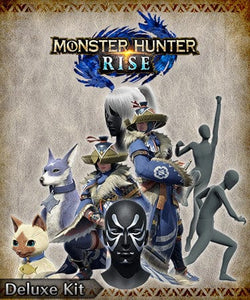 MONSTER HUNTER RISE Deluxe Kit
Tax included.
---
ADDITIONAL RULES
To qualify for prime interest rate, you will need to meet the minimum monthly deposit on the account you hold below or minimum number of initiated transactions or both
Account
Easy
Gold
Premier
Private Clients
Private Wealth
Minimum Monthly Deposit
R1 000
R5 500
R16 500
R 32 500
R 60 000
Minimum Number of Initiated Debit Transactions Monthly
2
5
10
10
10
---
Hover to view payment options
Click to view payment options
Use eBucks at checkout!
Get it on your FNB Credit Card for R1038.23 per month or 1038.23 if you meet additional rules
(excluding Business & Fusion Accounts) T's and C's Apply
---
This is a digital code and will be sent via email.

Platform: PC

Description:

Hunt in style with a selection of fun cosmetic add-on items, which let you dress up your hunter and your Palico and Palamute buddies and show off to your fellow players! You can even express yourself using cool gestures and poses.
Kamurai Hunter layered armor set
Shuriken Collar Palamute layered armor piece
Fish Collar Palico layered armor piece
Gestures (4 Jumps) - Samurai pose set
Kabuki face paint
Izuchi Tail hairstyle