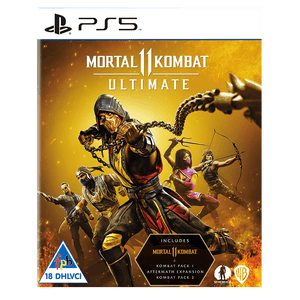 Mortal Kombat 11 Ultimate (PS5)
Tax included.
---
ADDITIONAL RULES
To qualify for prime interest rate, you will need to meet the minimum monthly deposit on the account you hold below or minimum number of initiated transactions or both
Account
Easy
Gold
Premier
Private Clients
Private Wealth
Minimum Monthly Deposit
R1 000
R5 500
R16 500
R 32 500
R 60 000
Minimum Number of Initiated Debit Transactions Monthly
2
5
10
10
10
---
Hover to view payment options
Click to view payment options
Use eBucks at checkout!
Get it on your FNB Credit Card for R1038.23 per month or 1038.23 if you meet additional rules
(excluding Business & Fusion Accounts) T's and C's Apply
---
Description:

The definitive MK11 experience! Take control of Earthrealm's protectors in the game's TWO critically acclaimed, time-bending Story Campaigns as they race to stop Kronika from rewinding time and rebooting history. Friendships are tested, and new alliances forged, in the battle to save all of existence. MK11 Ultimate features the komplete 37-character roster, including new additions Rain, Mileena & Rambo.
Mortal Kombat 11 showcases every amusing friendship, gory fatality and soul-crushing fatal blow like never before. You'll be so close to the fight, you can feel it! Includes Mortal Kombat 11, Kombat Pack 1, MK11: Aftermath & Kombat Pack 2.
Upgrades for PS5™ include: 4K Dynamic Resolution / Enhanced Visuals / Significantly Improved Loading Times / Cross-Platform/Cross-Gen Compatibility. 
Mortal Kombat 11 Ultimate includes the following content and enhancements: 
Definitive

 

Mortal Kombat 11

 

Experience

 

– Two critically acclaimed story campaigns taking players on a time-bending adventure that continues the epic

 

Mortal Kombat

 

saga, along with the full roster of 37 playable characters. 
Kombat Pack 2

 

– Newly added fighters

 

Mileena, the hybrid Edenian and Tarkatan clone of Kitana;

 

Rain, the royal Edenian demigod; and

 

Rambo, the iconic Special Forces soldier featuring the voice and likeness of actor Sylvester Stallone. 
Mortal Kombat 11: Aftermath Expansion

 

– Franchise-first story expansion, three playable characters (Fujin, Sheeva, RoboCop) and 10 additional character skins. 
Kombat Pack 1

 

– Six playable characters (Shang Tsung, Nightwolf, Sindel, The Joker, Terminator T-800, Spawn) and 25 additional character skins. 
Mortal Kombat 11 – Packed to the brim with multiple features and modes for all players including Story, Custom Character Variation System, Stage Fatalities, Friendships, Online, Towers of Time, Tutorial, Krypt, Kombat League and the signature roster of returning and franchise-first fighters, all equipped with unique Fatalities that display devastatingly brutal cinematic visuals. 
Krossplay Support

 

– Allowing PS5, PS4, Xbox Series X|S and Xbox One players to fight against other players on opposite platforms in select modes.  

Age Restriction: 18 DHLVCI