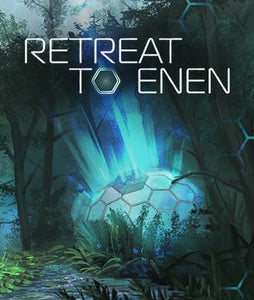 Retreat To Enen
R 115

R 115.00

Save R 115
Tax included.
---
ADDITIONAL RULES
To qualify for prime interest rate, you will need to meet the minimum monthly deposit on the account you hold below or minimum number of initiated transactions or both
Account
Easy
Gold
Premier
Private Clients
Private Wealth
Minimum Monthly Deposit
R1 000
R5 500
R16 500
R 32 500
R 60 000
Minimum Number of Initiated Debit Transactions Monthly
2
5
10
10
10
---
Hover to view payment options
Click to view payment options
Use eBucks at checkout!
Get it on your FNB Credit Card for R1038.23 per month or 1038.23 if you meet additional rules
(excluding Business & Fusion Accounts) T's and C's Apply
---
This is a digital code and will be sent via email.

Platform: PC

Description:

Humanity is unrecognizable in the year 3600 CE. Centuries of war, socio-economic strife, and the impending climate catastrophe, put the apex species on the verge of extinction. Turning back from the brink, humans chose a different path, one of healing, peace, and reverence for the ecosystem they are a part of. As Earth heals, every human who reaches adulthood is now tasked with learning how to become one with Nature, on the island of Enen. Return to Enen focuses on this rite of passage. Arrive at the legendary island to learn how to live in peaceful harmony with nature by surviving on your own, discovering the island's secrets, and mastering the art of meditation.

Mindful Survival
Experience a relaxing and engaging survival game, where meditation is essential to progress.
Map out the island of Enen, forage for food, hunt game, and collect supplies to build a peaceful home to spend many nights in.
Seek out the ancient ruins and find meditation points to learn the secrets of humanity in the 37th century.
Raw Beauty of Nature
Roam across three vast, distinct biomes. Dive deep and explore breathtaking underwater environments off tropical beaches.
Stalk deer and other game through dense redwood forests and the thick undergrowth.
Feel the snow and ice crunch underfoot while seeking ruins in the chilly Arctic.
Lay back and stare at the dancing stars until sunrise, thanks to a complex weather and day/night simulation system.
Meditation Relaxation
The meditation mechanics have been created in collaboration with licensed mental health specialists to leave players with new knowledge about relaxation.
Meditation points in Retreat to Enen offer the chance to learn breathing exercises and participate in guided meditations IRL.
Along the chance to ponder humanitys fragile relationship with the world it currently inhabits today…