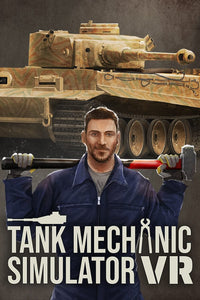 Tank Mechanic Simulator VR
Tax included.
---
ADDITIONAL RULES
To qualify for prime interest rate, you will need to meet the minimum monthly deposit on the account you hold below or minimum number of initiated transactions or both
Account
Easy
Gold
Premier
Private Clients
Private Wealth
Minimum Monthly Deposit
R1 000
R5 500
R16 500
R 32 500
R 60 000
Minimum Number of Initiated Debit Transactions Monthly
2
5
10
10
10
---
Hover to view payment options
Click to view payment options
Use eBucks at checkout!
Get it on your FNB Credit Card for R1038.23 per month or 1038.23 if you meet additional rules
(excluding Business & Fusion Accounts) T's and C's Apply
---
This is a digital code and will be sent via email.

Platform: PC

Description:

Tank Mechanic Simulator VR is a truly original experience. Feel like a real heavy-duty mechanic and immerse yourself in deep environmental interactions. RENOVATE and BUILD using different tools. Grow your repair service business. CUSTOMIZE, DRIVE a tank on the training ground, SELL it, or put it into your MUSEUM. Get deeper with the PERK system, parts SHOP, and CONTRACTS.
Renovate II World War tanks and armored vehicles. Transform them from rusty and ruined to fully working
De-rust and sandblast the tank
Apply primer paint & final paint to the tank (factory paint)
Add custom paint, camouflage, color, and decal in the paint room
Sell the tank or put it in your museum to gain money and a reputation
Take tanks fully apart by using different tools
Rust Removal Tool
Sand Blaster
Paint Gun
Hammer
Grinder - to cut and grind
Wrench pistol - to quickly disassemble rusted screws/bolts
Get inside the tank and experience VR like never before Have you ever driven a tank in virtual reality? You need to.
Choose from 12 highly detailed and recreated World War II tanks and 2 armored vehicles
PzKpfw VI Tiger Ausf. H1/
M4A3E8 Sherman
PzKpfw III Ausf. M
KV-1
M26 Pershing
KV-2
T-34/85
T-34/76
PzKpfw III Ausf. J
StuG 40 Ausf. G
PzKpfw IV Ausf. G
M10 GMC Wolverine
PzKpfw V Panther Ausf. A
SdKfz 251/1 Ausf. D
M3 Halftrack
This game has full vr devices support
HTC Cosmos . HTC Cosmos Elite . HTC Vive . HTC Vive Pro . Microsoft Mixed Reality (various VR headsets, not AR) . Oculus Quest (link only) . Oculus Quest 2 (link only) . Oculus Rift . Oculus Rift S . Steam VR (various VR headsets) . Valve Index