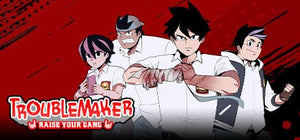 Troublemaker
R 129.50

R 129.50

Save R 55.50
Tax included.
---
ADDITIONAL RULES
To qualify for prime interest rate, you will need to meet the minimum monthly deposit on the account you hold below or minimum number of initiated transactions or both
Account
Easy
Gold
Premier
Private Clients
Private Wealth
Minimum Monthly Deposit
R1 000
R5 500
R16 500
R 32 500
R 60 000
Minimum Number of Initiated Debit Transactions Monthly
2
5
10
10
10
---
Hover to view payment options
Click to view payment options
Use eBucks at checkout!
Get it on your FNB Credit Card for R1038.23 per month or 1038.23 if you meet additional rules
(excluding Business & Fusion Accounts) T's and C's Apply
---
This is a digital code and will be sent via email.

Platform: PC

Description:

Will you be the one to save HumanitZ?!
About the Game
Go to school, make new friends, beat old enemies up, solve world-class problems (like grades and girlfriends), and don't let your mom down by getting arrested or worse - flunking out!
Troublemaker is an action-adventure-beat-em-up game about the most important and terrifying part of everyones life: High school. As Budi, the new transfer to one of Indonesias finest high schools, literally fight your way to the top of the social food chain through the schools annual student fighting tournament, aptly named Raise Your Gang.
Inspired by beat-em-up classics, Troublemaker is all about smooth and over-the-top combat in Indonesias greatest adolescent combat arena. Punch, kick, break, smash, or gently swing Budi's way up to the top with more than 30 iconic moves.
Square up with your best friends and mortal enemies, there can only be one winner! - Budi wont be fighting across the school alone. Parakacuk, his gang, will be there to help him out.
Rani the class boss will lend her smarts, Zaenal his might, and Boby...well, Bobys just Boby.
Together, theyll face the crushing mortal challenges of high school (or, you know, die trying).
Spend time with Budi's girlfriend, increase his popularity at school, do homework with his friends, and learn what an over the top life could be like in a 21st century Indonesian high school.
Beating up your peers is all fun and games, but patience is necessary.
Kickflip into the fray and create personal combos by mixing up Light, Heavy, Advanced, and Sick move styles
Take things slow, let bruises heal, and take a stroll across the school to see the sights while gathering 20 different collectables.